Product Catalogue - OilScreenWater (Crystals)®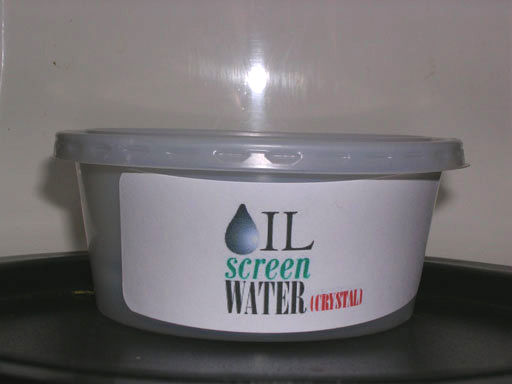 What Is The OilScreenWater (Crystals)® Oil in Water Test Sampling Kit Used For?
The OilScreenWater (Crystals)® oil in water test kit will detect a wide variety of petroleum hydrocarbons in water, including bunker oils, transformer oils, gasoline, motor oil, diesel, hydraulic fluid, and cooking oils - among a host of others!
Industries that would benefit from using the OilScreenWater (Crystals)® oil screening kits include:
Transportation facilities and garages (bus barns, fleet vehicles etc) forestry and pulp and paper, environmental, aerospace, shipping/marine, manufacturing, petrochemical, utilities and autoshops and carwashes. The kits are also useful for oil in water leak detection and site remediation tests.
The most common applications for this test kit include:
Checking for oil in water and oil sheens from auto shops and car washes
Checking for oil in water and oil sheens in sanitary or storm sewers
Checking for oil in water and oil sheens in flush water in telephone manholes
Detecting the presence of oil or hydrocarbons on ponds and waterways
Easy And Safe to Use:
In keeping with our desire to make to make our oil in watertests rapid, safe and simple a deminimus quantity of camphor is sealed in a convenient tear open packet. Our specially developed packet can contain camphor crystals for years without allowing the crystals to sublime. Prior to using this test, please rinse the testing container several times to ensure it is clear of oils transferred when handling the packets. To use this sampling kit - a water sample to be tested is placed in the plastic container provided. The crystals enclosed in the kit are sprinkled on to the water.
Spinning crystals indicate no oil in water
Stationary crystals indicate the presence of oil in water (typically at above the 10ppm TPH level)
The OilScreenWater (Crystals)® test is intended as a fast and easy absence/presence field tool only. It can not be used to either measure quantities of oil present, nor can it be used to identify specific oils or petroleums other than the general TPH indicator. The kit offers users a fast, reliable and inexpensive field tool that has has a +10ppm TPH capability. The only known interference comes from detergents or alcohols in the water (neither of which are typically encountered in a field situation).
Interested In Trying This Product?
In our ongoing efforts to make purchasing our products as easy and convenient as possible - we are pleased to offer the following options to trial the OilscreenWater (Crystals)® product:
A trial size box of 5 units @ US $80.00 plus shipping
Cheiron will deduct the price of one box of OilscreenWater (Crystals)® (50 units) from the first sale if it exceeds US $2,500.00