Product Catalogue - OilScreenDNAPL-LENS (Spray)®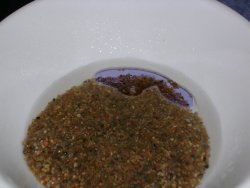 WE REGRET THIS PRODUCT IS CURRENTLY UNDER REVIEW AND NOT AVAILABLE FOR SALE AT THIS TIME.
What Is OilScreenDNAPL-LENS (Spray)® Used For?
A dense non-aqueous phase liquid or DNAPL is a liquid that is both denser than water and is immiscible in or does not dissolve in water.
OilScreenDNAPL-LENS (Spray)® was developed in response to a customer's need for the ability to quickly and easily identify the presence of DNAPL Lenses in core samples (without breaking or disturbing the sample material). The result was the launch of a "spray on" dye that colors DNAPLS (including chlorinated solvents like PCE, TCE and TCA) a Royal Blue colour, (as illustrated in the attached photograph).
In keeping with our mandate: the OilScreenDNAPL-LENS (Spray)® product is inexpensive, yields fast results and is easy to use. Simply shake the contents of the OilScreenDNAPL-LENS (Spray)® bottle and spray the solution onto the core sample on which you wish to detect DNAPL lenses.
Depending on temperature and the concentration of DNAPL, the color develops in under 3 minutes.
NOTE: Esters (detergents) are the only "known" substance to interfere with the dye's ability to stain petroleum hydrocarbon products. This may be applicable when screening for Ester based (i.e. synthetic) motor oils.
OilScreenDNAPL-LENS (Spray)® is sold in ½ liter hand-trigger spray bottles complete with dyes and surfactants - simply add water, shake and spray!
Interested In Trying OilScreen DNAPL-LENS (Spray)?
In our ongoing efforts to make purchasing our products as easy and convenient as possible - we are pleased to offer the following options to trial the OilScreenDNAPL-LENS (Spray)® product:
A trial size box of 1 unit is available @ US $80.00 plus shipping